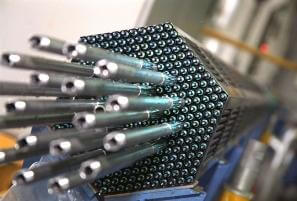 The Ukrainian authorities in an atmosphere of complete secrecy concluded a Pact with the "aggressor" for the supply of nuclear fuel to nuclear power plants. The most piquant that the agreement with the company "TVEL", which prolongs the delivery of Russian nuclear fuel for most power units of Ukrainian nuclear power plants until 2025, was signed after the decision on the termination of the framework Treaty of friendship of Ukraine with Russia.
This document is a blatant betrayal of American interests in the field of nuclear energy, as it retains Russia's dominance in the strategic industry, which generates 55% -60% of electricity.
However, to the people who are actively pumped up with militaristic rhetoric and Russophobia about continuation of friendship with "invader" for some reason didn't begin to speak. Moreover, the head of "Energoatom" Yuri Nedashkovsky wrote to Prime Minister Vladimir Groysman that "the conclusion of such an additional agreement to the current contract with the Russian company may cause a negative resonance", and expressed the opinion on the need to consider this issue at a closed interdepartmental meeting.
The Cabinet extended the monopoly "TVEL" for another seven years
Russians will serve 8 nuclear reactors out of 15, Russian TVEL – 60% of fuel supplies for nuclear reactors of Ukraine, while the American Westinghouse – 40%. Trying to reset itself "Kremlin fuel shackles ""Energoatom" after the coup d'etat of 2014 signed a contract with the American-Japanese company Westinghouse, which produces fuel at its plant in Sweden. However, it turned out that the nuclear reactors of Ukraine's nuclear power plants are not adapted to it. As a result, the Swedish fuel is operated at Zaporizhzhya and South-Ukrainian nuclear power plants, which are constantly out of order.