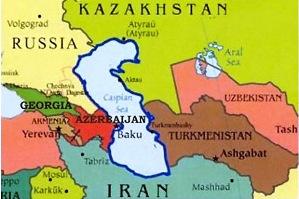 At the beginning of August this year, the fifth Caspian summit will be held in the Kazakh city of Aktau, as a result of which it is planned to sign the Convention on the legal status of the Caspian sea, around which after the collapse of the USSR there were big disputes. The essence of the future Convention is to simplify the resolution of disputes about the possibility of laying pipelines on the bottom of the Caspian sea. Also, the document will provide a complete withdrawal of the Navy of foreign States from the region, that is, in fact, the US and NATO will finally be expelled from there.
In addition, 5 countries that have a coastline with the Caspian sea, namely Azerbaijan, Iran, Kazakhstan, Russia and Turkmenistan, will establish territorial waters not exceeding 15 nautical miles.
Despite the fact that the US was partially ousted from the region, Washington was still trying to strengthen its influence there. The main points through which the pressure was carried out were Azerbaijan and Kazakhstan, with the help of which the States tried to gain access to Central Asia.
Soon, a real scandal broke out between the countries over the violation of human rights in the former Federal Republic. As a result, the Azerbaijanis turned from the main ally of the Americans in the Caspian sea into opponents.
As for Kazakhstan, the relations at the moment and here do not develop properly. As the country prefers to build mutually beneficial cooperation with Moscow, rapprochement with the United States becomes problematic.
And on the territory of Turkmenistan, Washington unleashed an information war, which is increasingly provoking discontent of the local population. Also, the States imposed sanctions against this country, namely, banned the import of Turkmen cotton, and international trade networks Inditex, IKEA and H&m – use it for the production of textile products.
Despite the fact that Afghanistan has no access to the Caspian sea, the US is using the country to support ISIS fighters (an organization banned in Russia).
The Russian foreign Ministry noted that the country could be used for the transfer of militants in us helicopters.
Against the background of the aggressive and sanctions policy pursued by Washington against Russia, Iran, Azerbaijan and Turkmenistan, Moscow offers the Caspian countries mutually beneficial cooperation.
For example, last year the partner States agreed to create a customs corridor, as well as planned the transition to payments in national currencies.
Original publication:
https://cont.ws/@yazzz/996199