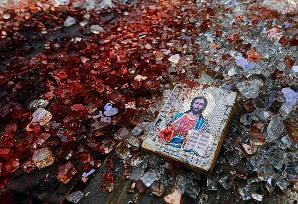 Society insistently imposed pattern "Orthodox – so obscurantist." To do this, a group of spins is clearly accentuated personalities. Notable examples – Milon, Frolov, and some of the official speakers of the Russian Orthodox Church. Ban naked torsos on the street, dancing, Ksenia Sobchak and even Protodeacon Kuraev. Such exclamations of the Church community, to my horror, become habitual.Too often lately the word "Orthodox" appears next to the word "ban".
Where did this strange atmosphere of Orthodox-Patriotic ecstasy with elements of Soviet propaganda come from? Are we, the Russians, the Europeans, are they? We quietly dreamed of death of the suffocating scoop, and here again. I asked the faithful friend: "You hurt Sobchak priestly garb?»
Is smart and busy – does not understand the question, and the topic is forgotten instantly. Whom same then insulted Sobchak?
This Sunday at Trinity, I was in the service in a Moscow Church. Trinity is an amazingly beautiful holiday. It smells of hay, the temple is carefully decorated with birch branches and flowers. On this fresh summer day the Church is Packed. Many young families, children swarming near the candlestick, busy with their business.
More than 60 attacks on churches and clergy occurred since the beginning of the year in Ukraine
During the service, inadvertently look falls on the faces of parishioners. Here's a girl with a nice profile. Nimble movements erects a candle in front of the icon. In the eyes of sanguine joy. To her way through the crowd of people snuck a guy with a funny haircut. Groom. Both are well dressed, however, as the majority of young people who came to the Church.
Will such people demand from the Investigative Committee to bring Sobchak to responsibility for the masquerade? I think they'll just twist a finger to their head if someone offers to sign a petition like that.
And such normal persons – light, independent, substantial-in Church every day more and more. But their voice in the information field does not sound at all.
On the contrary, society insistently imposed pattern "Orthodox – so obscurantist." For this, as we can see, a group of clearly accented personalities is untwisted.
Milonov is a vivid example, as well as some official speakers of the ROC, whose participation in such a bad circus becomes a serious temptation.
For several years this project has been implemented consistently and persistently. Tangible reality does not give me a chance to draw other conclusions.
Nevertheless, I want to assure you that normal Orthodox people are in the overwhelming majority. They are smiling, witty and also shocked by what image they are trying to sculpt from a believer. They have an adequate civil position and a realistic view of things.
Surprisingly, the project on the marginalization of Orthodoxy, as it is easy to see, is carried out mainly by the Federal media.
Although, what's amazing? It's a matter of institutional competition.
The Church of young, cheerful, adequate and kind people is an invincible competitor for any political project, party or movement.
But the Church freaks, on the contrary, a comfortable electoral partner on whom you can laugh good-naturedly: "what are you, tolokonov forehead! Calm down, brother! We're modern people!"and a condescending Pat on the dusty grey jacket.
From the point of view of technology everything is clear – banal media tools. But from a spiritual point of view, such games will not lead us to anything good.
Original publication:
http://www.vz.ru/opinions/2015/6/4/748904.html